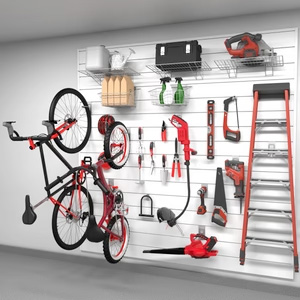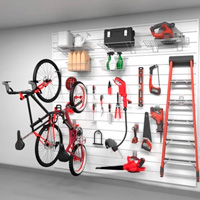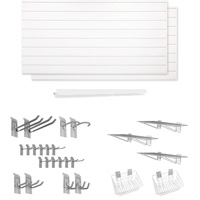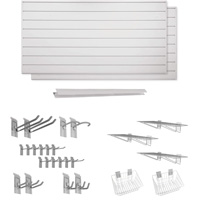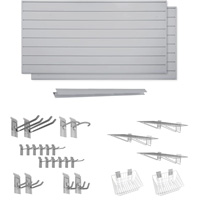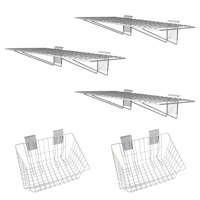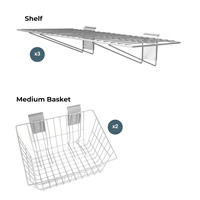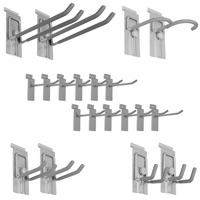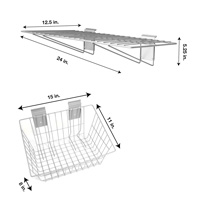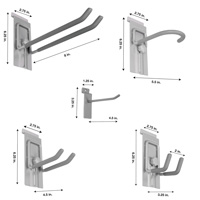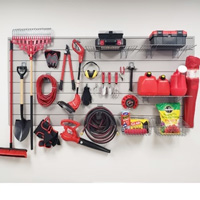 CrownWall 6" Super Bundle (8x8 OR 4x16 OR two 4x8) with 25-Piece Accessory Kit
#GR688WHT24SB-K
Take advantage of endless storage possibilities with the help of our super bundle. This bundle includes all the pieces needed to install your choice of either an 8 ft. x 8 ft., 4 ft. x 16 ft. (64 total sq. ft.), or 2-separate sections of our heavy-duty CrownWall. Tackle any space with confidence thanks to the included 25-piece accessory kit which combines our two most popular accessory kits to ensure you have everything you need to get organized. Cut the clutter with the strongest and most stylish Slatwall on the market. Reclaim valuable square footage by maximizing usable wall space to fit your unique needs. Our modular design means no space is too great or too small. Cover your walls, install a simple section or even break it into several tracks. Our panels can be easily cut to any desired length and configuration changes are simple.
Includes
16x slats
2x top-trims (96")
4x J-trims (48")
120x screws
1x H-trim
1x 25-piece assorted accessory kit
Weight Capacity
Slatwall - Supports 150 LBS. Per Linear Foot. Our Slatwall system is one of the strongest available when properly installed. The rigid back panel eliminates warping while still allowing for airflow.
4" Double Hook, Bike Hook, Small J Hook, Big J Hook - Supports up to 55lbs / 25kg Each
4" Single Hook - Supports up to 10lbs / 5kg Each.
Shelf and Basket Kit - Support up to 55 lbs/25kg each.
Modular Change your configuration or add to it at any time, CrownWall can be easily cut to any desired size or combined to create larger sections, with optional H-trim and F-trim sold separately to complete a seamless side-by-side connection.
Versatile & Robust These PVC wall panels are manufactured to withstand the toughest of conditions, from extreme cold to flaming hot temperatures. It is non-toxic, water and flame resistant. Impact tested to tolerate 25 times more abuse than drywall. A fantastic storage solution for your garage, shed, laundry room, gym, craft room, and more!
40% Faster Installation Our patented design is proven faster and easier to install than our competitors. Thanks to our innovative locking feature, achieving a level installation is a breeze. Install over drywall or directly onto bare studs.
Water and Moisture Barrier Mold, water, and mildew resistance block moisture and help protect the covered area, not recommended for use as shower backsplash.
Heavy-Duty Hooks Hooks are manufactured from high-grade steel with a sleek, powder-coated grey finish that resists scratching and corrosion. Rubber coating protects and secures supported items. Featuring our unique locking mechanism, the textured thumb screw makes it easy to lock the hook in place, preventing any slipping, lifting or otherwise unwanted movement **4" hook does not feature rubber coating and lock.
Warranty We stand behind our products and guarantee that they will be free from defects for life and offer a 5-year warranty on all of our accessories.
Dimension Multiple configurations - the pieces included in this kit allow for 3-variations when installing, 8 ft. by 8 ft. (the provided H-trim is not used in this configuration) or 4 ft. by 16 ft. (utilizes the H-trim to connect the 2-sections of panels seamlessly side by side) or 2-separate 4 ft. by 8 ft. sections.