Barrett Jackson
Inspired by the Spirit of Barrett-Jackson®, The World's Greatest Collector Car Auctions®, and manufactured under an exclusive license, Barrett-Jackson® edition cabinets are as practical as they are refined.
Inspired Quality
Barrett-Jackson® specializes in providing products and services to astute classic and collector car owners and automotive enthusiasts around the world. Barrett-Jackson® produces The World's Greatest Collector Car Auctions®, where hundreds of the most sought-after, unique and valuable automobiles cross the block in front of a global audience.
Rugged Construction
These sturdy cabinets are manufactured from a combination of solid 18 and 22 gauge steel, then finished in a durable black satin powder-coat.
Feel the quality difference with the substantial dual wall doors — with soft close, zero clearance hinges to prevent slamming doors.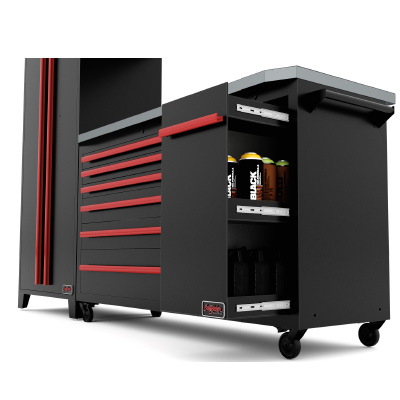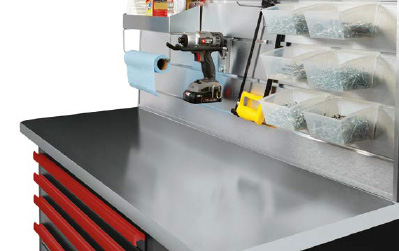 Versatility
Barrett-Jackson® Edition cabinets are handsome and practical at the same time.
With a freestanding work bench, mobile tool chest, as well as Tall and Wall Mount Cabinets — this series is ideal. Available in multiple configurations or create your own!
Maximum Versatility
The tool chest features a variety of drawer heights — all with rubber mat liners — perfect for storing all of your tools securely. The XL drawer delivers plenty of space for gallons of paint, solvents and cleaning supplies in the 2 double sided shelves inside.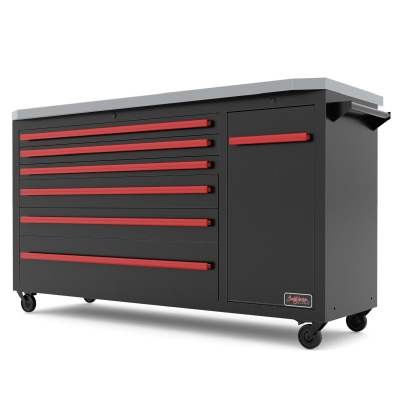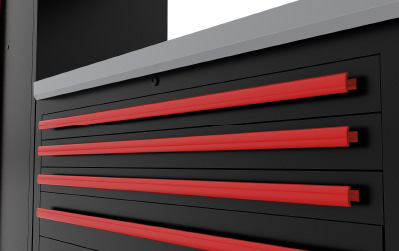 Ergonomic Handles & Trims
Barrett-Jackson® Edition Cabinets are fully locking with ergonomically designed full width handles. The solid aluminum anodized handles can be grasped as you like — from above or below.